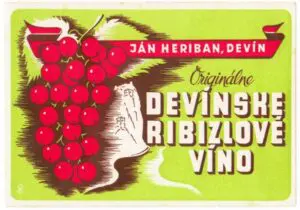 In 1922, a local resident, Mr. Alois Sonntag, founded a large-scale production of currant wine. He also had his own currant orchards, but he mainly bought currants from local growers, who were again eager to cultivate them. He had several dozen customers in Slovakia - restaurants and pubs, he allegedly exported currant wine abroad.
In addition to currant wine, he also produced a currant vermouth, which won a gold medal at an exhibition in Paris. Since then, Devín currant wine has become a phenomenon known far and wide.
Historical labels also testify to the diversity of the offer of  "golden times of Devín currant wine".