Texas IWC 2023 - Double Gold for Barrique currant wine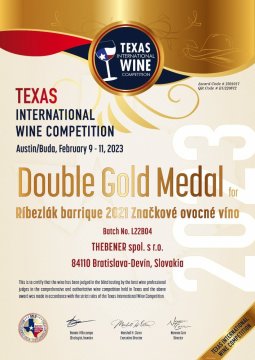 Our wines scored at this year's Texas IWC 2023 competition in the USA!

Our Ríbezlák Barrique won a double gold medal - only two wines from Slovakia won this precious metal (the second was Ostrožovič with straw Tokaj cuvée).

Our Jubilejný ríbezlák with RETRO Etiquette was awarded a gold medal commemorating the centenary of the establishment of currant wine production in Devín by Mr. Alois Sonntag. Other gold medals were won by Starodevínsky and Čierny ríbezlák.
Tradičný ríbezlák and Čierny sv. Urban won silver medals, so all six of our wines that we entered in the competition were awarded premium metals.
We are very excited about this, but don't worry, the prices remain unchanged. We recommend that you buy the barrique and jubilee currants right away, so that you can be sure to have a bottle from the same batch that the judges at TXIWC tasted. ;)