Interview with A. Mrázik about the brand´s history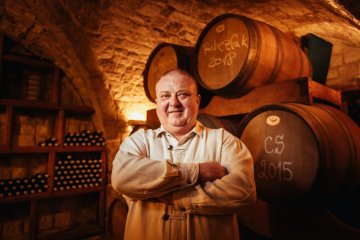 Rozália Hubeňáková - Forbes.sk 4/11/2019
He exchanged ordinary hobbies for saving the Devin currant wine. When the local cooperative society stopped producing it in 1996, in few years he took over the production himself. Augustín Mrázik is an architect, programmer and also a winemaker.
He takes steps in the business so that this local product is not forgotten and it breaks through the world. Therefore, he also registered the THEBENER trademark. The brand's currant wines have already succeeded in wine competitions in France, the USA, Israel, Germany and South Africa.
Not to mention local Slovak competitions, those had to wait for fruit wines, because it was not possible to compete with them before the decade.
The brand name was inspired by photography.
The name THEBENER was registered by Mrázik for trademark registration in May 2015. He remembers this moment as if it only happened yesterday: "It was registered via mobile phone from a car during the trip to the Wine Prague exhibition, where we went to introduce the brand and our currant wine internationally. The EU registration has been confirmed then later in October.
"For similar wines, other producers used names like Black Fox or Black Bear. Our wines had only general designations, such as Devín currant black wine. It was not a bear, nor a fox," he laughs.
Augustín Mrázik
Article was written in Forbes in Slovak language: https://www.forbes.sk/biznis-postavil-na-povestnom-ribezlaku-z-devina-dnes-ma-ochrannu-znamku-ocenenia-zo-sveta/